CINEC Campus Metro Branch
What began as the CINEC Management School in 2009 was transformed into CINEC Campus Metro Branch in 2014, featuring a more diverse course portfolio catering to professionals from various backgrounds.
Located in the heart of Nugegoda, a cosmopolitan suburb of Colombo, CINEC Metro Campus offers leading masters, degree and higher national diplomas in Sri Lanka in the fields of IT, Logistics, Business Administration.
Enabling to continuously progress in gaining knowledge and accomplishing the dreams, two Masters in Business Administration (MBA) was inaugurated with two prestige's universities in Germany and UK. These programmes cater to the professional segments seeking to enhance their knowledge and skills. Further enabling to explore job prospects in Europe.
Supporting students to stay ahead in the highly competitive IT field, the Information Technology courses are conducted by the University of Wolverhampton and Pearson (U.K). The latest addition to this sector includes courses from Chisholm, a premier TAFE institute of the Government of Australia.
The Logistics and Transport unit offers a wide range of certificate and diploma courses that cover areas such as Logistics, Supply Chain Management, Shipping Management, and Freight Forwarding. Many of these courses are in affiliation with the Chartered Institute of Logistics and Transport (CILT, UK), Ceylon Association of Ship Agents (CASA) and the Ministry of Ports and Shipping approved by the Director General of Merchant Shipping.
Backed by a highly qualified and interactive panel of full-time and visiting lectures from state universities and relevant industries, the campus continues to inspire and empower students to follow their dreams.
---
Message from Head, CINEC Campus Metro Brach, Nugegoda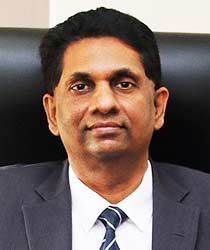 Chandima H de Silva
BS (Houston), MPhil (Heriot-Watt), MBCS
Head, CINEC Metro Branch
Associate Dean Faculty of Engineering and Technology
CINEC Campus
CINEC Metro branch, at present, conducts several Diplomas and Certificate courses related to Logistics, Supply Chain Management, Freight Forwarding and Shipping Management. Diploma and Advances Diploma from the Chartered Institute of Logistics and Transport , UK are two courses with a big demand that we conduct.
The MBA programme of University of Wolverhampton, UK has gained popularity among many professional due to unique aspects of conducting this programme. In addition, the Pearson HND in Computing (with specializations in Network Engineering and Software Engineering) and the BSc (Hons) top-up degrees in Computer Networks are popular among aspiring IT professionals. Our lecture panel consists of highly qualified and experienced visiting Professors / Senior Lecturers from the university sector as well as reputed professionals from relevant industries. CINEC Metro Branch is situated in Nugegoda, conveniently reached from Colombo and suburbs.
I sincerely invite discerning learners to visit our campus and explore the high caliber and professional courses that we provide.