Faculty of Management and Social Sciences
Ranging from international transportation management to logistics handling, our management courses in Sri Lanka provide recognised undergraduate and postgraduate qualifications in this dynamic field of study.
DEAN'S MESSAGE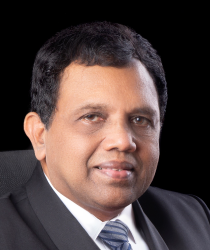 Professor (Dr.) Lalith Edirisinghe
Faculty of Management has three departments namely, Logistics and Transport, Management and Business, and Law. Logistics and Transportation is concerned with the process of planning, implementing, and controlling the efficient, effective flow and storage of goods, services, and information from point of origin to point of consumption, for the purpose of, conforming to customer requirements. The scope of Management and Business Department ensures delivery of programs that are concerned with the way a company or organisation operates and functions. This can include the financial, administrative, and marketing aspects of the business. Department of Law delivers the programs related to law which is a fundamental and indispensable role in the society.
Aligning with CINEC's vision namely, "to be the international leader in the field of education with a focus to produce functional, work ready and competent global citizens." this department will create new ties with potential employers in the industry, professional bodies, and other stake holders and explore avenues of vertical integration from the schools to the industry. It will assist current students and alumni to be a strong pillar that support the country's economy and development as a world class education provider in Logistics and Transport. The department will seek continuous improvement in its academia, infrastructure, and other physical resources to ensure customer delight.
As Dean of Faculty of Management and Social Sciences, I'm extremely happy to state that our team has successfully implemented the vertical integration of the academic contents of Logistics and Transport between the industry and society from 2022 onwards as per policy recommendations we submitted to the Ministry of Education from the CINEC -AHEAD SL Cell. The faculty published two textbooks in 2021 provided the leadership to declare National Logistics day by the Government of in Sri Lanka.
CINEC has a rich tradition of providing high quality education that our campus has upheld since its founding. Our goal is to be the international leader in the field of education with a focus to produce functional, work ready and competent global citizens. Our philosophy is to make every student "beyond a graduate" and you are one among them. The faculty staff provided you with the best educational experience in CINEC that was blended with Knowledge, Skills, and Competence. Discipline was the key in that journey, and I am sure you will value that component very much as you start working in the corporate sector. Education is a never-ending activity of a successful person thus I invite you to keep continuing with your higher education while contributing to the industry as a resourceful working professional. Research and publication will be the key to educational success.