Faculty of Health Sciences
The Faculty of Health Science is the first ever Health Science Faculty in non-state sector, comprises of three departments; Department of Biomedical Science, Department of Pharmaceutical and Cosmeceutical Science and Department of Health and Medicinal Science. The Mission of the Faculty of Health is to be the center of excellence in non-state health sector and to be the experts' at all academic levels as the leading Sri Lanka educational and research level.
Dean's Message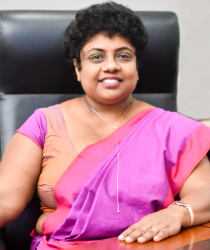 SENIOR PROFESSOR. LUKSHMY MENIK HETTIHEWA
PhD | MBBS – University of Peradeniya
The Faculty of Health Sciences in the CINEC campus is the pioneers in the undergraduate and postgraduate education in Health Sciences in nonstate higher education sector in Sri Lanka. Our faculty is dedicated to superiority in undergraduate education, health research, innovation and product commercialization. Our diverse specialty in different health science higher education has attracted the highest student population.  Health Science faculty is exclusive and distinct  in every aspect of required infrastructure, laboratory facilities and highly qualified teaching staff providing an atmosphere to all students to excel and contribute to the pharmaceutical Biomedical and cosmetic industries and service providers enabling for better well-being of people.  It has become  the Center of excellence, in relation to higher education in Health Sciences at given international standards in Biomedical, Nursing, Pharmaceutical and many other   health related professions
Faculty of Health Sciences provides marvelous opportunities to join you and it will be a challenging future for pursuers specially as health and allied health professionals, health and medical scientists, and eventually ending up with global acceptance specially for students studying in Biology stream. I invite you to stay in touch and inspire future of our health students to see how they support the pharmaceutical production and development, diagnostic services in health system and work through even during this new era of economic development of the country.
I acknowledge and thank you for all of you who are doing good in your studies and like to share our greatest wishes for your endeavors in your future life. We further wish you to fill your life with strength, courage and resilience to commence and continue your goals in your expected career. I anticipate that the skills, resources in addition to the knowledge you've acquired through your study in different arenas at the CINEC campus with us, will help you to confident about the future opportunities for you.

List of Courses