TTO STAFF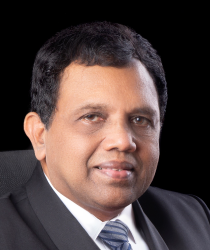 Head – Society Linkage Cell
Professor (Dr)  Lalith Edirisinghe
Professor Edirisinghe the author of first ever textbooks on Logistics and Shipping  written in Sinhala introducing many theoretical models and developed new theories and concepts in transport. He has published nearly hundred research papers in local and international journals, conferences, and industry publications. He won four vital awards namely, Best Research in Ports & Shipping 2016 by Sri Lanka Society for Transport & Logistics (SLSTL); National Merit award for Scientific Research in 2018, by the National Research Council, Sri Lanka; Best Research paper 2019 in Japan by World Academy of Science, Engineering and Technology, and Best Research Paper 2021 by Garden City University, India. He holds a PhD, in Transportation planning and Logistics Management from the Dalian Maritime University, China affiliated to World Maritime University, Sweden. He is a Chartered Logistician and Chartered Marketer and a certified Competent Leader (CL) and Competent Communicator (CC) of  the Toastmaster International. He is an Expert Consultant appointed by the United Nations Economic and Social Commission for Asia and the Pacific (UNESCAP). Professor Lalith Edirisinghe were instrumental in establishing Logistics as a part of school curriculum in Sri Lanka and declaring a National Day in Sri Lanka for Logistics in consultation with the Ministry of Transport. Leads  to  a  Psychological  Paradigm  Shift  in  Student's Demand  and  Enrolment  for  Various  Academic  Disciplines  in  the  Tertiary  Education  in  Sri Lanka"
Website: www.professorlalithedirisinghe.lk/
---
Manager-Society Linkage Cell
Ms. Dudulie Silva
At a glance
Ms. Dudulie Silva was actively involved in the apparel industry for seven years as a Human Resource Management professional at MAS Intimates (Pvt.) Ltd. before joining CINEC.
Ms. Dudulie Silva is reading for Doctor of Business Administration (DBA) at Heriot-Watt University, UK and she has obtained a Postgraduate Certificate in Business Research Methods (PGCert BRM) from the same university. After graduating from the Open University of Sri Lanka with a Bachelor of Arts (BA) in Social Sciences (Economics, Mass Communication & Sociology), she earned her Master of Human Resource Management (MHRM) from the University of Kelaniya, Sri Lanka. Also, she has completed the Professional Qualification in HRM (PQHRM) from the Institute of Personnel Management Sri Lanka. Ms. Dudulie Silva is currently pursuing a Bachelor of Law (LLB) degree at the University of Greenwich.
Sports Achievements
Dudulie is an ardent sportswoman and believes that sports complete her life. She has represented Sri Lanka in Archery at the South Asian Games (2006, 2010), Asian Games in 2006 and the World Archery Championships in 2007 and so on. She has secured several International Medals in South Asian Games. She has been accredited as an Asian Continental Judge in Archery since 2015 and assigned as a judge at Asian Archery Championships in 2017, Asian Games in 2018, Asian Para Archery Championships in 2019 and South Asian Games in 2019. Also, she is a World Archery Level 2 coach, currently volunteering as a coach of Archery Club of Colombo.
Qualifications in Intellectual Property Management and Protection
She has completed the following distance learning courses at World Intellectual Property Organization (WIPO) Academy.
Advance Course on Patent Information Search

Advance Course on Patent Drafting
Advance Course on Software Licensing including Open Source
Advanced course on Copyright and Related Rights
Advanced course on Intellectual Property Management
Advanced Course on Trademarks, Industrial Designs and Geographical Indications
Specialized Course on The Essentials of Patents
Specialized Course on The Madrid System for The International Registration of Marks
Executive Course on Intellectual Property and Genetic Resources in The Life Sciences
Promoting Access to Medical Technologies and Innovation – A WHO, WIPO, WTO Executive Course on The Intersections Between Public Health, Intellectual Property and Trade
General Course on Intellectual Property
 Email- manager.slc@cinec.edu