Capt. Ajith Peiris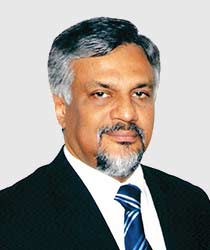 Chairman/President – CINEC Campus
Executive Chairman – Ceyline Group of Companies
---
A Master Mariner who began his career on an Indian State training ship 'Rajendra' in 1974 on a scholarship received from Ceylon Shipping Corporation. After completion of training in 1976, he joined the Ceylon Shipping Corporation fleet and sailed in all ranks ranging from Cadet to Ship Captain before joining a German Shipping Company. He qualified as a Master Mariner and was appointed Captain of a foreign going (Class I) ship at the age of 28 years.
After leaving his sailing career in 1988, he joined Ceyline Shipping Limited, a Ships Crew Management company, and in 1990 was appointed the Group Managing Director of Ceyline Group. He led the Ceyline Group to be the most diversified Shipping Group in Sri Lanka covering a spectrum of businesses within and out of the Marine Industry. CINEC Maritime Campus is a product with his initiative and it is one of the leading private higher educational institutes in Sri Lanka. In February 2018 he was appointed the Executive Chairman of the Ceyline Group of Companies and Chairman of CINEC Campus.
In recognition of his professional contribution to the Industry he was appointed the President of Company of Master Mariners in 2005 and the Chairman of Ceylon Association of Ships' Agents (CASA) from 07.07.2006 to 23.07.2009 and from 15. 08. 2014 to 26.07.2017. He served as a member of the Committee appointed by His Excellency the President on Maritime Affairs in 2009/2019. He also served in the following key positions.
Member – Advisory Board appointed by the Minister of Ports & Shipping.
Member – Select Committee on Maritime Affairs of Ceylon Chamber of Commerce
Member – Advisory Committee, CASA
He is attached to the following professional bodies as,
Fellow -The Nautical Institute, UK
Fellow- Chartered Institute of Logistics & Transport, UK
Fellow- Certified Professional Manager