Capt. Ajith Peiris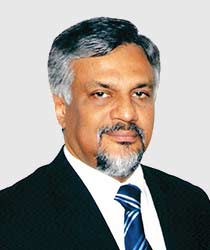 Welcome to CINEC, Sri Lanka's largest Non-state Higher Education Institute dedicated to world class excellence in education, since its establishment in 1990 as a Maritime Academy. It has gone through tremendous growth in student population, range of new programmes diversifying to Non-marine programmes at all levels of higher education, facilities and staff. In addition to our specialized programmes in Maritime and Aviation Studies, we now offer Bachelors, Masters and Doctoral programmes in various disciplines from foreign universities. CINEC is also recognized by the Ministry of Higher Education and University Grants Commission as a Degree Awarding Institute for the award of degrees in specified disciplines.
We at CINEC provide a friendly environment for the holistic growth and all round development of the student including development of these soft skills through suitably designed teaching learning processes. The education provided to the students make them globally acceptable personalities with discipline communication skills, proper attitudes and aptitudes, problem solving capabilities and to work effectively in a team environment.
The facilities we provide and the resource personnel we engage to deliver the programmes are yet to be matched by other similar Institutes in Sri Lanka.
I look forward to welcome you to the CINEC family.