An Achievement Par Excellence – The region's best maritime cadet through a special employment award.
The Maritime Standard (TMS) and Kuwait Oil Tanker Company (KOTC) have collaborated on a unique project to recognize the region's best maritime cadet through a special employment award.
The initiative was the brainchild of the chief executive of KOTC, H.E. Sheikh Talal Al Khaled Al Sabah, who shared his idea with TMS managing director, Trevor Pereira, around a year ago. Trevor says, "Sheikh Talal's idea was simple, but brilliant. It was to have a special award for a deck or marine engineering cadet, rewarding a student who had clearly demonstrated an outstanding level of performance over the year. The concept was that the winner would not merely get a trophy, but an offer of employment onboard a ship as an officer with KOTC. This initiative is something really special and unique, that shows Sheikh Talal's total commitment to the development of young people in shipping, and we were delighted to be able to support it in this way."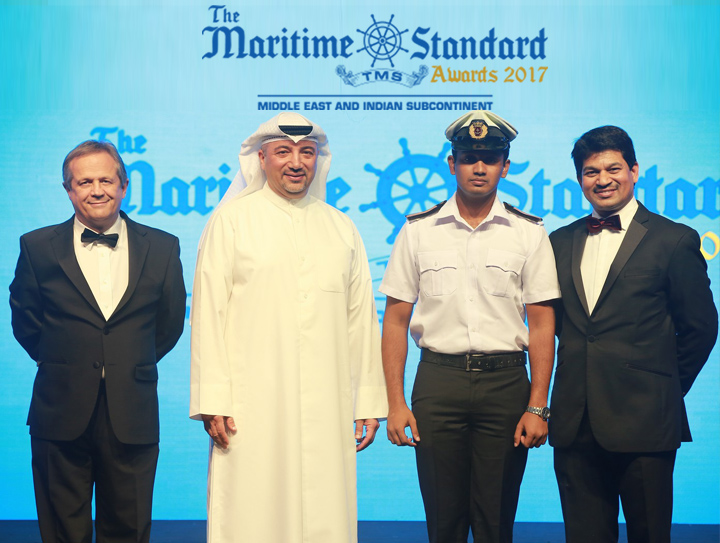 TMS invited applications from maritime colleges and educational training institutes across the region and received over 150 entries from students from a wide range of backgrounds. These nominations were carefully evaluated by TMS and KOTC, in a very thorough and open process that involved reviewing the entry forms, seeking comments from their colleges and telephone interviews with shortlisted candidates.
The successful candidate, was Marine Engineering Cadet, Isuru Udara Silva,   from Colombo International Nautical & Engineering College, Sri Lanka, (holder of Certificate of Competency – Officer in Charge of an Engineering Watch on ships of 750kW propulsion power or more) The announcement was made at the annual The Maritime Standard Awards, which were held at the magnificent Atlantis, The Palm, Dubai on October 23rd.
H.E. Sheikh Talal says, "We are delighted to have been able to work with TMS on this exciting project. Our staff are our most important resource and training to ensure that crew members are fit for that purpose is top of our list of priorities. We are delighted to present Isuru with a contract of employment as a 5th engineer, being the winner of the TMS Cadet Employment Award, and we look forward to welcoming him to our fleet."
Speaking after the Awards, Isuru was clearly delighted at the opportunity. He said, "It has always been my passion to work in the field of marine engineering. KOTC is an excellent company and getting this employment award is a dream come true for me."
Deputy chief executive of KOTC, Ali Shehab, believes the Cadet Employment Award represents an excellent way of encouraging young people to take up a career in the maritime sector. He concludes, "We are facing a looming skills shortage in the industry and we have to do what we can to promote opportunities to young people in this region.
The TMS Awards were an excellent place to get this message across in a very real and practical way."
On instructions given by Managing Director /President of CINEC Capt.Ajith Peiris, an application was forwarded to The Maritime Standard (A Division of Flagship Events LLC, Dubai) to compete for the "The Maritime Education & Training Award 2017"
Colombo International Nautical and Engineering College was selected as one of twelve Finalist for the award. CINEC was awarded a "Finalist Digital Badge" by the Maritime Standard, which could be used for promotions, marketing collateral, website and email signatures to exhibit success in becoming a finalist.
Since we decided to apply for "The Maritime Education & Training Award 2017", we were given an opportunity apply for "KOTC Employment Award" which is a joint venture between The Maritime Standard and KOTC.
An Achievement Par Excellence!
Our Sincere Congratulations to  Isuru Udana Silva and we wish you every success !